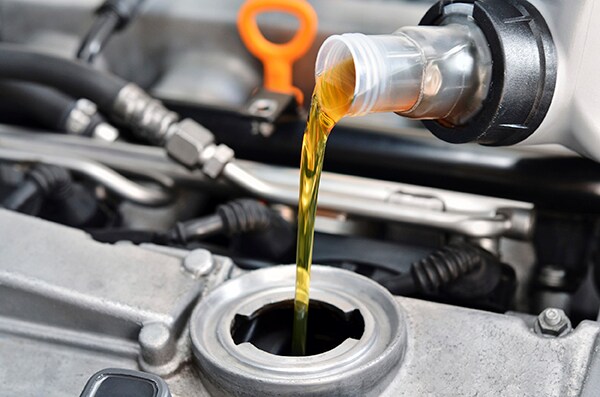 Jeep, Dodge and RAM Oil Changes in Center Point IA
For your engine to operate correctly, it's vital tohave the proper lubrication. Each engine design has its unique requirements foroil type and a recommended schedule for changes. Whether you're drivinga Dodge, Jeep or RAM, get the most from your engine by regularly bringing itfor oil changes at Junge Center Point.
Don't Wait to Change Your Oil
Clean engine oil coats delicate engine parts,deterring corrosion as it keeps these parts moving freely. Your engine oil willalso remove any debris that acts like an abrasive, such as road dirt, dust, ormetal shavings that get trapped in your engine. Without oil to perform thisfunction, moving parts would become clogged with grime, which strainsperformance and increases fuel consumption.
The ideal interval between oil changes will be differentfor every model, as will the recommended oil type. You might also find it makessense to switch between oil weights according to seasonal weather opting foroil that flows smoothly in winter temperatures or holds up under the intenseheat of summer. Your manufacturer may also recommend synthetic oil, a purerproduct that can increase times between oil changes.
The best oil type for your engine will be listed inyour owner's manual, along with a schedule for oil changes. Even if you don'tput a lot of miles on your vehicle, it's still a good idea to have your oilchanged twice a year. Over time, moisture can enter the oil, opening the way forcorrosion when you're not driving the engine enough to create heat to evaporatethe accumulated water. Stay current with oil changes, so your engine can performits best.
If you need a Jeep, Dodge or RAM oil change near CedarRapids, we offer competent technicians trained in Jeep, Dodge, and RAM care. According to the manufacturer's recommendation, weutilize the correct weight and composition of oil for your vehicle. You can trust us to provide excellent carefor your vehicle with the very best products, so visit us today if you need aJeep, Dodge or RAM oil change near Hiawatha.
Hours
Monday

08:30AM - 08:00PM

Tuesday

08:30AM - 06:00PM

Wednesday

08:30AM - 06:00PM

Thursday

08:30AM - 08:00PM

Friday

08:30AM - 06:00PM

Saturday

08:30AM - 05:00PM

Sunday

Closed